When it comes to dating sites, men and women may have different ideas for the perfect partner. Certainly, it does seem that way to the casual observer.
So, what do women look for in men when perusing a dating site? This is what we're going to answer in this article.
It Varies Depending on Goals, Mood and More
Just like with men, sometimes a woman is wanting more of a casual encounter with no strings attached. Or, she's recently out of a long-term relationship and not looking for something serious but still wishes to be monogamous.
Sometimes, women are trying out different kinds of men to discover what their type is. Or, they're just having fun while they're young. In which case, dating sites are used to find someone new to have enjoy some time with.
Other women have decided they're trying to meet Mr. Right and not Mr. Right Now.
It's for you to talk with her to see what she wants (if she really knows herself). This may also change what she's looking for when trying to find someone – looks are less important when wanting a long-term partner and more important for flings.
Here's what women are usually looking for in a man from a dating site.
Looks Make the First Impression!
Looks matter. Especially to the younger set.
The older the woman gets, the more she's looking for other compatible factors too. However, if they're not physically attracted to the man, then that's a complete non-starter. That's why having a great photo (or three) is important for your dating success.
She doesn't expect every potential suitor to look like Brad Pitt. But men should certainly have a shave, dress well, dab on some aftershave, and look like they've made an effort. If they go work-out – without being a gym rat – then that's a plus point too.
While a scruffy appearance appeals to some women, mostly it's likely to put them off. If you look respectable, she's more likely to show interest.
A Reasonably Amount of Success
While she probably won't say no to a partner who happens to drive a Ferrari, in truth, that's probably not on her list of wants.
What she does want is someone with a good job who has a future. Owning a car is a prerequisite in most places in the world too. Sure, you can get an Uber to pick her up but that's inflexible and gets old fast.
A balance must be found between being ambitious and a workaholic. You must have time to date or she'll get bored with you!
An outgoing personality usually goes down well.
Women still expect men to make the conversation. If you're not comfortable doing that, online dating is going to be problematic.
They receive many approaches from men on dating sites. Because of this, they must filter out the ones they're not interested in. Successful relationships don't start with "Hi" otherwise they'll likely end there too.
Show that you've read her profile by commenting on something and relate it to what you do in your life. See if some similar interests will help make an instant connection.
If the man isn't confident in himself, she won't be in him. Confidence is contagious.
But, and this is important, it shouldn't be forced or become overconfidence. No one likes a braggart.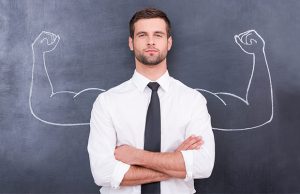 If the man comes across as arrogant, it's a complete turn-off! Quietly confident but not boastful is the right balance here. What does this look like? Like someone who doesn't need to talk about their accomplishments because they carry it well.
While most people inflate their life a little bit on a dating site, try to as true to yourself as you can.